JYJ's Kim Jae Joong received high praises for his first sageuk (historical drama) acting for MBC's Dr. Jin.
With episodes one and two of Dr. Jin aired on May 26 and 27, Kim Jae Joong attempted to transform into the character of Kim Kyung Tak, using the sageuk dialect and low tone of voice.
Also, Kim Jae Joong received praises for his diverse expressions showing the strictness of a high officer, the affection towards his loved one, and the pain of being born out of wedlock.
But as it was his first sageuk acting, Kim Jae Joong had awkward moments spread throughout the two episodes, making viewers feel unfortunate towards the actor.
Not appearing in the original Japanese production, the role of 'flower soldier' Kim Kyung Tak has been receiving a lot of attention from viewers. After the episodes were aired, 'Dr. Jin,' 'Kim Jae Joong,' and 'Kim Young Tak' were ranked high on various portal sites, receiving comments such as "Eye candy of Joseon times" and "He did great for his first sageuk."
In addition, a Twitter trend of #JJinDrJin was placed first in Singapore, Hong Kong, and Taiwan, confirming Kim Jae Joong′s popularity as a hallyu star.
Meanwhile, Living Like a Dream sung by Kim Jae Joong for the soundtrack of Dr. Jin has also been receiving popularity. The song placed high on various music sites.
Photo Credit: C-Jes Entertainment
Credit: enewsworld
[NEWS] 120528 'Time Slip Dr.Jin' Kim Jaejoong, First Time Acting For Historical Drama? "Acting Beyond Expectations"
JYJ's singer and actor Kim Jaejoong took his first step in historical drama through MBC's new drama 'Time Slip Dr.Jin.'
In episodes 1 and 2 of 'Time Slip Dr.Jin' that were aired on May 26 and27, Kim Jaejoong played the role of Kim Kyung Tak that has clear beliefs and convictions, with a deep-toned voice. He showed both the strict side of a police officer and the soft and warm side toward his fiancée, gaining much compliments for his diverse acting.
Though his acting was far superior compared to what people expected from him, viewers of the drama said that they still saw a bit of fear of being in a historical drama for the first time.
The OST of 'Time Slip Dr.Jin' that Kim Jaejoong sang, 'Living Like a Dream,' is also becoming an issue. Last week, as soon as the song was released, it made to the top of music charts.
[NEWS] 120528 Kim Jaejoong shines in a period drama as an actor & a singer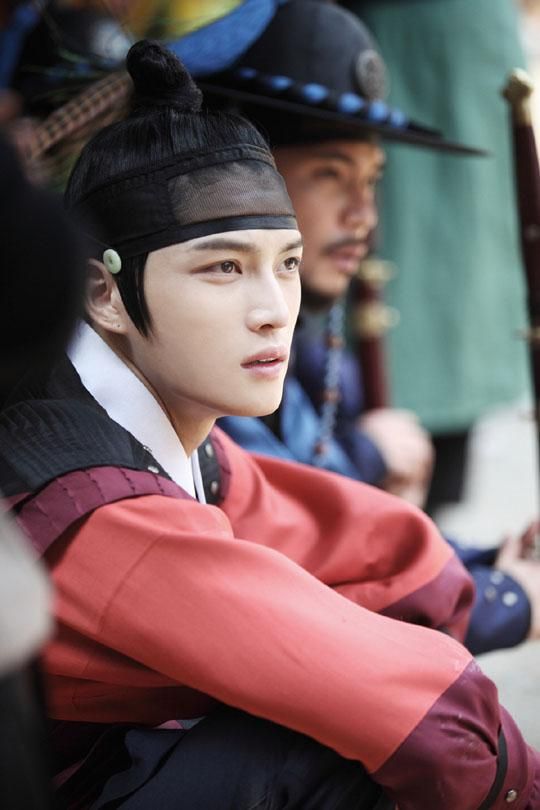 Singer and actor Kim Jaejoong's acting in a period drama is drawing much attention.
On the May 26th premier of MBC drama 'Time Slip Dr. Jin', Kim Jaejoong transformed into the character of Kim Kyung Tak. In episodes 1 and 2, Kim Jaejoong showed a masculine character with the strength of a man and dignity of a jongsakwan (similar to a modern day prosecutor) together with a warmth inside him towards a woman. Since this is Kim Jaejoong's first try at a period drama, the level of interest is high.
From the moment Kim Jaejoong appeared with a gun pointed at Song Seung Hun in the first episode, to the moment of the of opposition to behead Song Seung Hun in the second episode, Kim Jaejoong even said the lines in the difficult old Korean smoothly. Even though Kim Jaejoong's face speaks a highly city message, many are commenting that he looked great in the traditional garb.
Kim Jaejoong's character is a child of a concubine in an influential family and as such, feels the pain stemming from his position, but his eyes spoke more than enough for the warmth he feels in front of his fiancé.
Kim Jaejoong not only appears on 'Time Slip Dr. Jin' as an actor but has participated in the OST. 'Living Like a Dream' off of the drama's OST was released last week doing well on the music site charts well in the top ranks.
Source: Star In via Nate
Credit: Kpopfever 
[NEWS] 120528 JYJ's Jaejoong praised for his acting in 'Time Slip Dr. Jin'
As episodes one and two of MBC's 'Time Slip Dr. Jin' hit airwaves on May 26th and 27th, JYJ'sJaejoong is receiving much praise for his acting in the new historical drama.
Jaejoong has taken the role of a high Joseon military official who was born from a noble family and a fateful rival to Dr. Jin Hyuk (Song Seung Hun).
Although there were a few awkward moments as this is his first attempt at a historical drama, Jaejoong successfully portrayed his character Kim Kyung Tak. His transformation to a strict military official in the Joseon dynasty and his sageuk dialect has surely captivated the audience.
Jaejoong has also been receiving countless praises as he had perfectly expressed the pain of being born out of wedlock but showed his friendly, softer side towards his loved one.
In celebration of Jaejoong's first historical drama, fans from Singapore, Taiwan, and Hong Kong have put up a Twitter trend with the hashtag #JJinDrjin after the broadcast of episodes one and two. The hashtag reached the #1 spot for trending, proving that he's one of the leading Hallyu stars of Asia.
Meanwhile, Jaejoong released "Living Like a Dream", the soundtrack for the new drama, and has been receiving a lot of interest on music and portal sites.
Source & Image: TV Daily via Nate
Credit: Allkpop
Shared by: JYJ3