Over 7,000 JYJ fans from Japan are expected to step foot in Korea for JYJ's upcoming JYJ Expo.
On June 13, C-Jes Entertainment shared, "For four days beginning on June 28 at EC, we will hold the '2012 JYJ Membership Walk – 2012 JYJ Membership Week'. This is a specially prepared large-scale fan service event, exposition and fan meeting by C-Jes Entertainment for JYJ membership holders."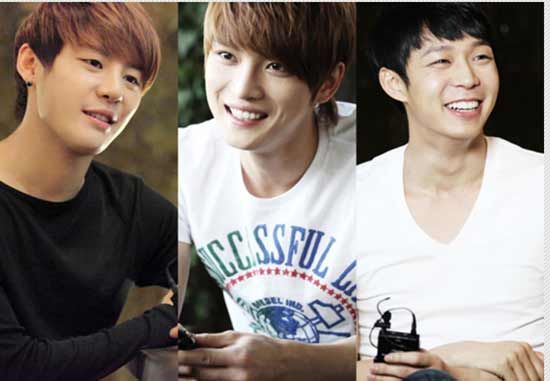 Going all out for Korea's first fan-oriented exposition, a number of specially prepared sights and events will be seen including a 3D media façade, trick art exposition, large-scale gallery on JYJ and two days of fan meetings on June 30 and July 1.
The event will be attended by some 15,000 fan club members from Korea and over 7,024 fan club members from Japan.
The fans from Japan will come from 14 of Japan's airports on some 116 different flights and have already reserved lodging in over 1,000 different places in Korea including lodging in not only Seoul but Suwon and Incheon.
C-Jes Entertainment added, "7,024 fans in Japan from 15,000 submissions were selected. Even among Korea's hallyu stars there has never been this many Japanese fans entering the nation all at one. Thanks to JYJ we've reached a historic record in Korea's tourism industry."
The JYJ members have finished shooting photos and videos for the exposition and are now in its final preparations.
Photo credit: C-Jes Entertainment
Credit: Enewsworld
[NEWS] 120613 Thousands of JYJ fans from Japan to visit Korea
Over 7,000 Japanese K-pop fans will visit South Korea late June to attend an event held by boy-band JYJ, its agency said Wednesday.
Cjes Entertainment said the 2012 JYJ Membership Week will host 15,000 Korean fans along with 7,024 Japanese fans that will visit Korea to attend the large-scale fan event.
"No other Hallyu star has been able to gather such a huge flock of fans in a single event," claimed the agency. It alleged the influx of Japanese fans were "the largest in scale since the foundation of the country" although this claim was not officially validated.
Hallyu, which means the Korean wave, refers to the current popularity boom for Korean pop culture among Japan, China, and Southeast Asian countries.
JYJ Membership Week, to be held from June 28 through July 1 in Seoul, will feature exhibitions that will showcase various images of the boy-band. It will also present a chance for fans to meet JYJ in person.
Credit: The Korea Herald (khnews@heraldm.com)


[NEWS] 120613 JYJ invites over 7,000 Japanese fans to Korea
Over 7,000 Japanese fans will come to Korea to see JYJ. This is the largest number of foreigners entering Korea for a single concert.
JYJ's agency, C-JeS Entertainment, says, "Over 7,000 Japanese fans will attend the '2012 JYJ Membership Week,' which will be held on June 28 for four days at SETEC. We planned to hold the event for JYJ Membership members to meet JYJ."
The members can experience JYJ's various charms through a 3-D media facade, trick art, and huge pavilions at the first Korean fan fair.
At the fan meeting, which will be held on June 30 and July 1, JYJ will talk together with their fans.
Around 25,000 people, including 15,000 Korean members and 7,024 Japanese members will come to the fair. They will take 116 airplanes from 14 airports in Japan to come to Korea. They have booked over 1,000 hotel rooms in Seoul, Incheon, and Suwon.
A spokesperson for the agency says, "Over 15,000 Japanese fans applied for the fan meeting but 7,024 people were selected randomly. There has never been an event for Hallyu star which drew as many Japanese fans as this. Thanks to JYJ, the event has set a historical record in tourism."
Baek Chang Joo, the president of the agency, says, "This event will make Korean fans happy because the group has been performing abroad. Since we are going to bear the entire expense, the event received an explosive response. We are ready to give JYJ and their fans several special days together."
JYJ recently shot a video and pictures for the event.
The group says, "We are excited to meet our fans and thank them for supporting us. We really enjoyed shooting and we hope that our fans can feel this happiness together."
Source: TV Report
Credit: En.Korea
Shared by: JYJ3 
[NEWS] 7,000 Japanese Flying Over for JYJ's Fan Meeting in Seoul
Some 7,000 Japanese fans of JYJ will visit Korea to attend a special "membership" event held by the three-member boy band in Seoul for four days from June 28. This is just short of the daily average of 8,000 tourists from the island country who arrive here, indicating the huge level of interest the fan meeting has attracted.
In a press release on Wednesday, JYJ's agency C-Jes Entertainment said, "Some 15,000 Korean fans and 7,024 Japanese fans will attend the event, dubbed the '2012 JYJ Membership Week,' which will take place at Seoul Trade Exhibition and Convention Center in southern Seoul."
They will depart from 14 airports, including Tokyo's Narita and Haneda and Osaka's Kansai, on 116 flights on June 28, and will arrive in Seoul via Incheon and Gimpo.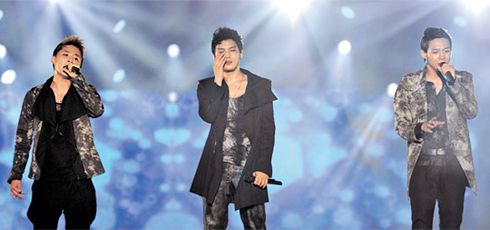 The event will take place in a 6,600 sq. m. hall featuring photographic and video-based exhibitions of the band. Fans will also be able to shake hands with virtual 3D images of the JYJ members. On the third and fourth days, the band will personally meet fans in the exhibition hall.
The agency said this is a private event for paying members of the band's Korean and Japanese fan clubs. Koreans pay an annual fee of W15,000 (US$1=W1,168) and Japanese W50,000. All participants were chosen by a random draw, the agency added.
The agency has booked 3,500 hotel rooms in Seoul, Incheon and Suwon and arranged 250 buses to accommodate the Japanese fans, it said.
"The news that 7,000 foreign fans are visiting Korea at once to meet a single group adds more momentum to the tourist boom resulting from the Korean Wave," said Kim Kyung-sook, vice president of the Tourism Sciences Society of Korea.
Credit: The Chosunilbo
Shared By: JYJ3