The JYJ members are always fooling around, as shown in cases one, two - too many to count , and coming together after their solo activities, the members commemorated the event with more silliness.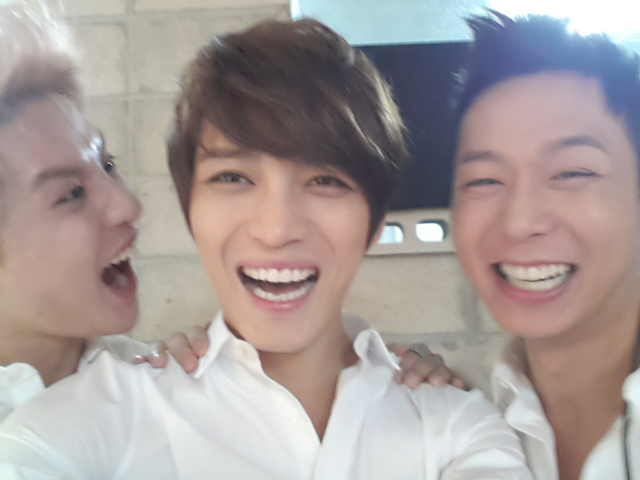 On October 18, Kim Jae Joong tweeted, "Junsu Ha."
He attached a photo of himself and Park Yoo Chun laughing as Kim Junu went for a vampire look, trying to bite Kim Jae Joong's neck and suck his blood.
Moments later, Kim Jae Joong tweeted again, "He suddenly and said, 'Hyung, let's take a picture!' Like this."
The photo showed the two JYJ members making a ridiculous but endearing face to the camera.
Meanwhile, Kim Jae Joong has begun promotions for his new movie, The Jackal is Coming,while Park Yoo Chun has started filming for his upcoming drama I Miss You. Kim Junsu has recently released an OST track for Nice Guy.
Photo Credit: Kim Jae Joong's Twitter
Credit: enewsWorld
JYJ members take funny self portraits
JYJ's Kim Jae Joong recently released self portraits that he took with his group members.
On October 18, Kim tweeted pictures with the comment, "They suddenly came to me and said, 'Let's take self portraits!' These are the results."
In the first picture, Kim Jun Su is posing like a dinosaur with his mouth open and Kim Jae Joong is smiling with Park Yoo Chun. In the second picture, Park made people laugh out loud by wearing a bizarre look on his face while looking up and sticking his tongue out.
People who saw the pictures responded: "JYJ is good at taking bizarre self portraits." "I laughed out loud at the pictures." "All three of them are still handsome."
Kim Jae Joong will debut as a movie actor through the movie Jackal Is Coming, which will be released in November. He played the role of a top star named Choi Hyun, who is kidnapped by female killer Bong Min Jung (played by Song Ji Hyo).
Source: Starnews
Credit: en.Korea
JYJ members take funny self portraits
JYJ members look like they're having the time of their lives taking hilarious photos of themselves.
On October 18, member Jaejoong uploaded couple photos with the caption "They suddenly came. Hyung says to take selcas. Like this."
The first picture shows Jaejoong looks comical by oddly shaping his mouth. Yoo Chun couldn't lose the funny contest by sticking out his tongue and rolling his eyes upward. The next picture shows the two smiling a bit awkwardly while Junsu makes a surprise visit imitating a vampire. Their sleek appearance adds to the hilarity of the mini selca combo. They dress classy, but selcas cheesy.
Netizens who saw the pictures commented, "Monsters! But you guys look great," "To think they look good and take pics like this," "Even so, they can't erase their good-looking-ness."
Soompiers, do you agree with the K-netizens?
Credit: Soompi
Shared by: JYJ3
Article: KpopStarz