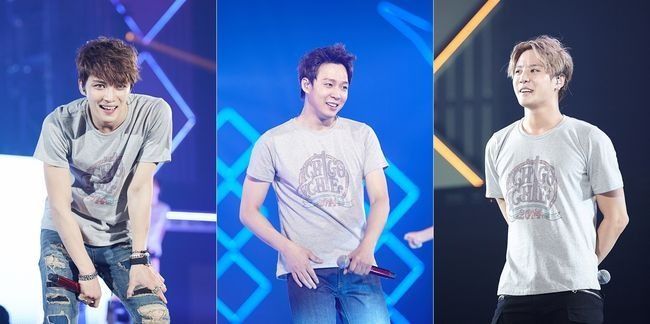 Popular group [JYJ] is spending a busy year end with various activities like their Japan Dome Tour, concerts in Korea, Fan Meetings etc. Reactions from fans not only in Korea but also overseas have been hot, welcoming JYJ's 10th debut anniversary with unchanged passion.
[JYJ] is at the moment holding their Japan Dome Tour "2014 JYJ Japan Dome Tour ~ Ichigo Ichie".
Although their 2nd original album [JUST US] was released in July in Korea but not officially in Japan, it swept Japan's Oricon Chart Ranking and attained No 1 on iTunes Chart in 7 Asian countries etc, proving their global popularity. JYJ Dome Tour held in Tokyo this November attracted 100,000 people, and the Osaka Kyocera Dome performances on 13th and 14th December also mobilized a solid 75,000 people.
The only way to interact with fans is via their performances. [JYJ] has continuously held concerts every year to meet fans and this year their tour is being held in more venues within a short period of time. Immediately after their Asia Tour was the Japan Dome Tour, their many concerts as gifts for fans.
[JYJ] held their Asia Tour beginning from Seoul in August, then Hong Kong, Beijing, Ho Chi Minh, Chengdu, Taiwan, Shanghai and Thailand, performing over a period of 2 months.
Their performances are unchanged with high level of perfection, and their growth and talent as singers as well as performing on stage with frankness, gained explosive reactions all over the region. Even amidst their busy schedule, they commented, "it's regretful that our Asia Tour this time is short. We could feel fans' love during this tour, and we are thankful and this became a huge strength for us".
And then this Japan Dome Tour held after the heat in Asia. In-between, there was the Seoul "Hallyu Festival" performance, and just like what was expressed here, fans showed endless passion towards [JYJ] performing here and there and everywhere. Fans' passion towards [JYJ] is spreading like a surging wave.