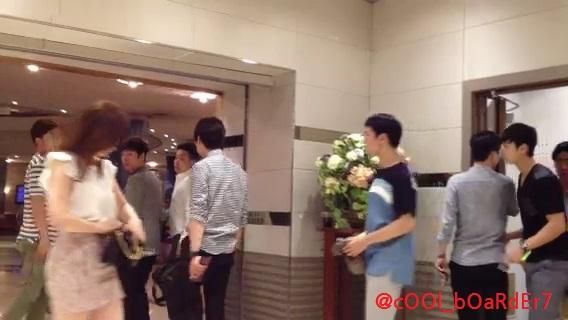 Today, I was seated a little in the back. YC and GD were 3-4 rows behind and I saw Kim Hoyoung (T/N musical actor) sitting in the row in the front :) YC was especially so cute when he entered the venue before the 2nd part and at the start of the curtain call.
When YC entered the venue on the 2nd part, all the fans were staring at him and I guess he felt a little embarrassed(?) because he kept talking with the people in front of him, turning into a "mandoo" (T/N dumpling; expression that means being all smile and all cute) T_T At the time of the curtain call, I thought he would leave the venue but he clapped his hands earnestly before Xiacula came out. His cheeks went upward and he even did his special "chu" lips action. He was just so cute!
YC left after watching the curtain call. When he saw all the fans standing up to clap, he was surprised at first, making this expression ㅇㅅㅇ then he laughed and stood up together with us to clap.
Today, Yuchun was seated in the 16th row next to Jung Sukwon and Junho (JUNO). The order seemed to be YC-JSW-JH.
Source: @XIA_Dove + @KBYEBYEK + @Elisabeth6002
Picture Credit: @cOOl_bOaRdEr7
Translated by: Sheena
Shared by: JYJ3