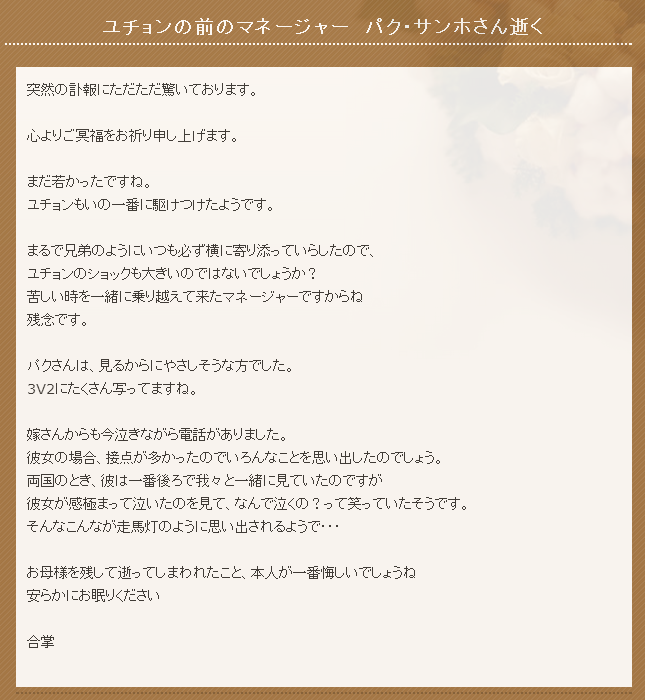 I just feel nothing else but shock with the sudden obituary news.
From my heart, I express best wishes for his soul
He was still young it seems.
Apparently Yuchun was also the first to rush there.
This person is like a brother who always definitely was by his side,
so Yuchun's shock must have been huge I'm sure?
A manager who overcame those tough times together with him you see
This is such a pity.
Park-san is someone who seems a kind person even by just looking at him.
And he was filmed quite a lot in 3V2.
I also got a call from my wife who was crying on the phone.
For her case, there were a lot more contacts with him so she must have been remembering those moments.
At Ryoukoku (T/N's note: the Japanese sumo wrestlers' competition stadium where JYJ held the charity concert for Japan 311 victims), he was watching the performance together with us right at the back.
When he saw my wife crying emotionally then, he asked WHY ARE YOU CRYING? with a smile I heard.
She kept remembering this and that like a revolving lantern…
He probably felt the worst having to leave his mother behind like this.
Please rest in peace.
Hands together in prayers.
Source: Hayato-san's Blog
Translated by: Jen (@Jen_BabyLove)
Shared by: JYJ3