The Gaon Album Chart are a set national charts that ranks the best-selling albums, including mini-albums and singles, in South Korea, provided by the Korea Music Content Industry Association. The charts are made up of charts tracking domestic album sales, international album sales and a combined overall album sales in weekly, monthly and year-end format.
JYJ ranking in Gaon Album Sales Chart  | All Time (2010-2015) is the following:
JYJ3's Note: Please take note that compared to other boy groups from the list, JYJ have not promoted their albums in any music programs, variety shows nor radios from South Korea, JYJ is continuing being banned all these years, they had experienced several troubles in release their music, also JYJ have been busy promoting more their solo activities as actors, solo singers  and musical actor.
Boy Group's Cumulative Albums Sales  –  #10 JYJ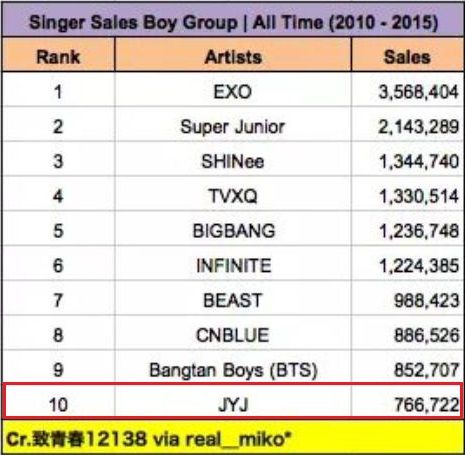 JYJ3's Note:
JYJ Discography:
The Beginning + Repackage (2010)
Our Story (2011)***
In Heaven + Repackage (2011)
Just Us (2014)
***JYJ's "Our Story" contain 6 songs, all are included in "In Heaven" Album, at this time because JYJ've had problems in the production and distribution for their 1st Korean Album, they decided to release first "Our Story" as Format: Essaybook +CD, it sold around 150K but it's  not considered in Gaon/Hanteo Album Charts because of the format.  Read More →