JYJ "We Do Not Believe That We Must Get Out From the Shadow of TVXQ"
JYJ Will Hold Solo Concert in Spain and Germany as First Among Korean Artists End of This Month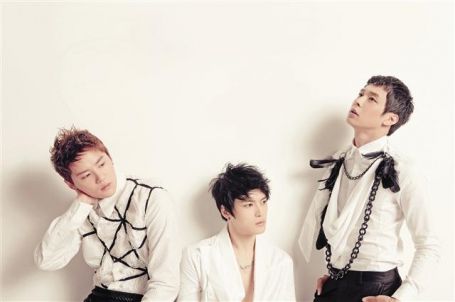 Now, Kim Jaejoong, Park Yoochun, and Kim Junsu are more used to the group name of JYJ than of TVXQ. The three who have become separated from the 5-member group TVXQ and have undergone two years of tempering have recently released their first Korean-language regular album In Heaven and have stepped out in earnest to stand alone. That the album's major songs, Get Out and Fallen Leaves and the title song In Heaven are members' creations is a characteristic that gathers attention. The digital music has mostly been released earlier through performance in Asia. Thanks to that perhaps, the album has reached 300,000 copies in pre-orders already. I met JYJ on the 30th of last month in a café in Jungdong, Joonggu, Seoul.
Kim Junsu: "If we were on the level of just putting on color on an already-drawn sketch, this time we have created starting from the sketch. Just the fact that over 80% of the album is produced or written by the members is unique and I have special affection."
At recording, opinions enthusiastically incorporated… Emphasized the JYJ-ness
Park Yoochun: Because of that, it is possible that the album falls in its degree of completion but the JYJ-ness of the music has become more emphasized. Above all, it was great that in the recording room our opinions were enthusiastically incorporated and our creativity were able to be expressed without sparing. We were not able to stand on the popular stage for quite a while, but we heard that there has even been a checkout counter exclusive for our albums in album stores and were very surprised and had a very grateful heart.
Kim Jaejoong who has also directed the Asia Tour: "In making music needed for the tour, many dynamic songs fit for a live performance were created." Read More →