T/N: Before proceeding to read the article, please note that Cyzo is one of the most notorious tabloid publication in Japan, and has written some very nasty gossip/rumour articles on many celebrities, including JYJ before. So, please take this article with a huge grain of salt. Also, per fans who have contacted CjeS, CjeS said that JYJ had not planned to take part in the charity event (that will be talked about in the below article).
[Tabloid] "Will not even allow the report of relief live" Avex has begun its work to thoroughly crush JYJ!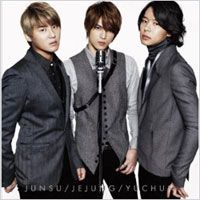 On the wake of East Japan's earthquake that has caused unprecedented damage, not only Japan's own entertainers, Korean stars such as Bae Yong Joon and Lee Byung  Hun who have many fans in Japan have one after another given relief donations (to Japan). Among the names credited, was the unit name JYJ formed by Jaejoong, Yoochun, and Junsu who have split from Tohoshinki.
"The three members of JYJ have donated through the international relief and development organization, World Vision $600 million won (approximately $43 millon yen). They have also revealed that during the world tour starting from the 2nd of next month, they will also be informing (concert goers) the severity of Japan's earthquake disaster among other long term efforts to support the rebuild (of Japan)." - Per certain sports newspaper. (JYJ3 note: this is true, as seen here)