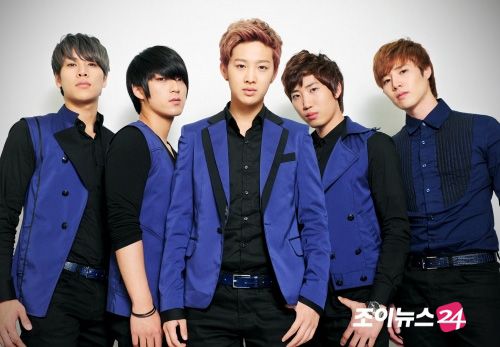 Male vocal group Code-V recently sat down for an in-depth interview with Joy News 24. Although they're still an unfamiliar name to most, they have a confidence in their vocal skills that puts any other rookie artist to shame. Reporters immediately noted that confidence, as the boys expressed that they were ready and willing to sing on request.
—
They were in the midst of introducing their title track, when they abruptly stopped to ask, "Do you want to hear us sing it live?" After a short on-the-spot a cappella performance, the boys went on to reveal that they also possessed dozens of different voice imitations to show off on variety shows as well.
This talented team is comprised of leader Sang Woo, 'visual' Sol, 'chocolate abs' Naro, maknae Taemin, and their newest addition, Louis.
Code-V initially promoted under the name 'Bless' back in 2007 before making their debut with the track, "Addiction", back in June of last year. Unfortunately, they didn't meet the success that they had hoped for, and had to abruptly conclude promotions without attaining much in achievements.
"There was always a natural disaster following us," they explained. "We had to postpone our broadcast promotions because of the Cheonanham skirmish, and when we were preparing for our Japanese promotions, there was an earthquake in Fukushima. We're sort of immune to everything now (laughter). In order to break that jinx, we persistently promoted in Japan."
They continued, "While preparing for this album, we think our failures created a strong foundation for each of the tracks in it."
—
Although they're not quite well known in Korea, they're already growing as Hallyu stars in Japan. They recently ranked first in a survey that asked Japanese fans to choose a Korean artist's debut that they were looking forward to the most.
Japanese fans have been highly anticipative of the group for their vocal talent, especially for their resemblance to TVXQ in that they're both a capella groups. As such, they were nicknamed the 'second TVXQ.'
Code-V commented, "We think the Japanese music fans see us in the same light as TVXQ since we promoted with a dance track, but our members are all vocally talented. A capella is also our specialty so we resemble them in that way. We personally like TVXQ and respect them, but as opposed to emulating them, we hope surpass them and show a color of our own."
The members also added, "After TVXQ's split, some of their fans came to us." Sol revealed, "They say I look like KCM in Korea, but in Japan, they think I look like Jaejoong. When we go out to eat, some people even mistake us to be TVXQ."
When told that those were rather dangerous statements to be making, the boys replied with aegyo, "It's not something all five of us agree with."