An Analysis of the Appeal of the Two Directors of Headquarters: Ji Sung and Kim Jaejoong of Protect the Boss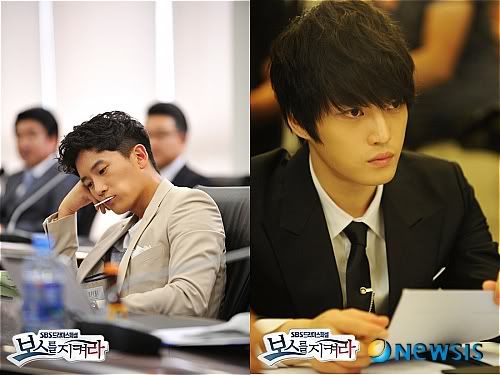 What is the commonality among the male leads of dramas that are currently being broadcast in the midst of popularity?
Not only do they have the physical attributes that are fit to capture the female heart such as skyreaching height, clean complexion, and hard ab,s but they also are in the positions of being the director of headquarters.
Cha Jihun and Cha Muwon of the currently-airing SS Wed-Thursday drama Protect the Boss, Kang Jiwook of the weekend drama Scent of a Woman, and Moon Shinwoo of the MBC Daily drama Indomitable Daughter-in-Law are enjoying such heated popularity that a new word of "Directors of Headquarters F4" has been created for them.
The position of the character also is taking place as a kind of a trend. Instead of the department heads who used to melt the female heart in the past, the directors of headquarters are fulfilling that role.
In particular, Ji Sung and Kim Jaejoong of Protect the Boss are exuding opposing attractiveness and are capturing the eyes of the viewers.
The two who are in charge of Business Strategy Team 1 and 2 of DN Group are cousins but from their personality and style of work to the method of expressing their affections for the female lead Noh Eunsul, they show themselves to be quite different. Read More →