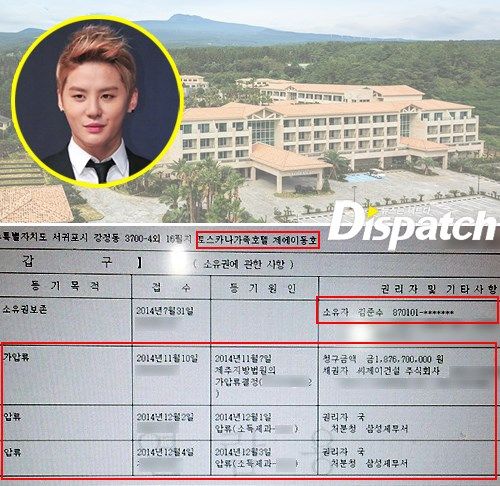 Cheonji Construction: "We lent Kim Junsu 5 billion won to be paid back by September 30th, but it wasn't"
Toscana: "That's all false. We've never borrowed money from the construction companies. We've paid for all the construction costs already."
JYJ Kim Junsu is entangled in a 5 billion won lawsuit. Construction company CJ Construction is requesting repayment from Toscana Hotel, and applied for a 1.8 billion won provisional seizure of property at the Jeju District Court.
However, Toscana's stance is completely different. They state that there is no repayment to be paid to Cheonji Construction, and revealed the confirmation document which has the company's CEO's seal as evidence. They also emphasized that Cheonji Construction embezzled billions of won in construction cost, causing damages to Toscana.
Dispatch looked at Toscana's real estate registration and asked questions to Toscana executive Park Sungmin and CJES Entertainment representatives. We've compiled their answers and truths, and asked about tax and seizures based on the registration.
We've released Q&D (Question & Dispatch) to answer some questions of Kim Junsu's lawsuit. We currently cannot reach Cheonji Consolidated Construction. They applied for a provisional seizure of property but are keeping their mouths closed. Through this, there is an unjust side to the lawsuit against Kim Junsu.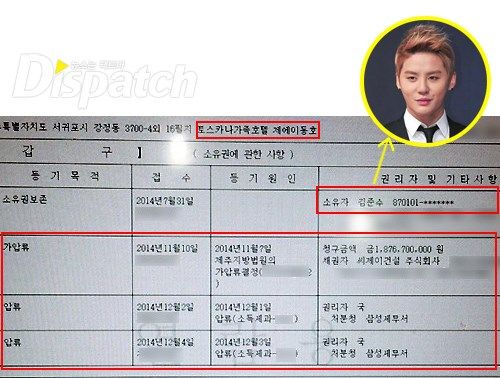 Q1. We understand that there are two companies in question right now, Cheonji Consolidated Construction and CJ Construction.
D. Cheonji Consolidation Construction (hereby Cheonji) and CJ Construction (hereby CJ) are in reality, the same company. CJ is a paper company used for bidding. Therefore, Toscana was dealing with only one company.
If you verify CJ's real estate registration, their address is 24, 6-gil, Gunam-ro, Jeju City. If you search this address online, Cheonji comes up. Their phone numbers are different but if you contact them, it goes to the same company.
Q2. To open Toscana, approximately 28.5 billion won was invested.
D. Toscana executive Park Sungmin stated that the construction cost of the hotel was 28.5 billion won. Of that was a personal investment from Kim Junsu in the amount of 13.5 billion won. The remaining 15 billion won was obtained through a loan. Previously, a loan of 9 billion won was obtained from a foreign exchange bank for the purchase of land.
15 billion won was a loan from Nonghyup. Park Sungmin said, "9 billion of the 15 billion was used to repay the loan from the foreign exchange bank. The remaining 6 billion went to Cheonji."
Q3. Why did money Toscana borrow go to Cheonji?
D. Because the loan was obtained in the name of funds for equipment and items for the hotel. Legally, the bank deposits the money to the construction company directly. Therefore, 9 billion of the 15 billion was used to repay the loan from the foreign exchange bank. The remaining 6 billion went to Cheonji.
In reality, the 6 billion won that went to Cheonji is money Kim Junsu borrowed, and is an amount that Kim Junsu has to repay the bank. Cheonji also knows this so they returned the money to Kim Junsu. They used approximaely 8 billion won for hotel equipment and returned the remaining 50 billion. The promissory note was written in this process.
Q4. You said this is originally Kim Junsu's money, then why did you write a promissory note?
D. Park Sungmin said that this was a favour Cheonji requested, and Kim Junsu listened to their request. Park said, "Cheonji said they need the document for their accounting ledgers, so we wrote a promissory note for formality."