JYJ the Ambassadors of the 2014 Incheon Asian Games, but their appearance at its concert is impossible?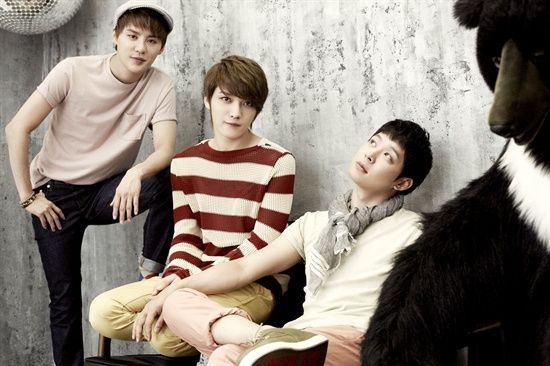 "I clearly saw it. That JYJ were appointed as the ambassadors of the Incheon Asian Games. However, Incheon City tries to hide JYJ from our nation's citizens while it uses JYJ for promoting Incheon City globally. No matter how hard I look at the Incheon Asian Games music festival lineup, I see no trace of JYJ's name as the ambassadors they are. Holding a concert to wish for Incheon Asian Games' success without the ambassadors? It's their shame to the world."
This is some JYJ fan's writing in a social networking site. If you read it thoroughly, you will feel the harangue as well as wrath. In social networking sites, posts saying, "We don't understand how the ambassadors of the 2014 Incheon Asian Games (hereafter IAG) are not in its concert lineup" have flooded and come up.
JYJ's fans are getting furious, once again. Even though it's been years fans have been furious over JYJ's situation, in which fans can't see JYJ on music and variety broadcasts, this time it is quite different. Because the characteristic of the IAG is a national event, it is different from the three big broadcast stations' and their character of "Appearance Impossible" towards JYJ.
For starters, JYJ has had activities as the ambassadors of the 2014 IAG since last February. The organizing committee has claimed, "For spreading awareness of the IAG's across the nation and promoting it globally, we appointed JYJ who are gaining popularity throughout Asia as its ambassadors."
Also as IAG's organizing committee chairman, Kim Young Soo, has said "In company with JYJ's international popularity, I wish the 2014 IAG to be widely known to 40 billion Asians." It presents JYJ's renown very well. And last May, JYJ kicked off their activities as the ambassadors of the 2014 Incheon Asian Games by participating in its official theme song.
But, it turned out JYJ is excluded from the lineup of the 2014 IAG's concert which is slated to take place on September 1st. Then, who's going to make appearances at the IAG concert without the ambassadors JYJ?