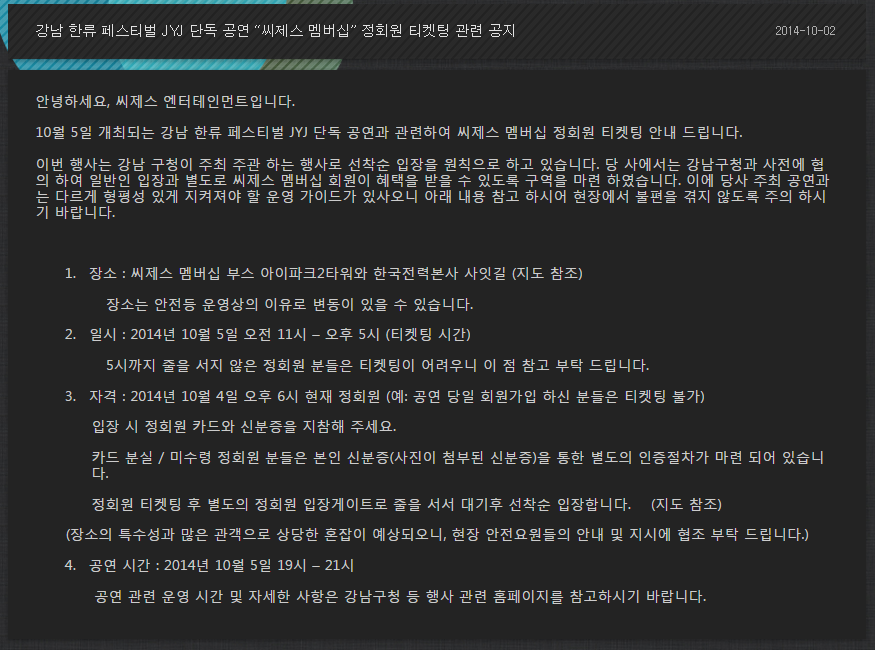 This is the ticketing guide for regular members with C-JeS membership; in reference to JYJ solo concert at the Gangnam Hallyu Festival held on October 5th.
This time the event has made it a rule for first-come, first-serve admittance with the event that is hosted by and under the supervision of Gangnam District Office. The company has consulted with Gangnam District Office beforehand and will be preparing the area so that admittance for the general public and C-JeS membership members separately can be able to be eligible for benefits.
1. Location : C-JeS membership booth on walkway between I-Park Tower and Korea Electric Power Corporation Head Office (refer to the map)
The change is done for the reason of managing the location for safety and such.
2. Date & time : October 5, 2014 from 11 AM [KST] – 5 PM [KST] (ticketing time)
Fans who are regular members who cannot get in line after 5 PM [KST] may have difficulty ticketing in regards to this.
3. Qualification : be a current regular member by October 4, 2014 at 6 PM [KST] (Yes; there is no ticketing for fans who have become a member on the day of the concert)
Please bring your ID with your regular member's card at the entrance.
Fans who are regular members who have lost / not received their card will have to prepare for an authentication process to be used with your ID (an ID with a photo).
After ticketing for regular members, there will be first-come, first-serve admittance for the extra regular members after standing in line at the entrance gate. (refer to the map)
4. Concert time : October 5, 2014 from 19:00 – 21:00 [7 PM – 9 PM KST]
For the hours of operation and detailed information in reference to the concert, please consult event-related homepages, like Gangnam District Office's and others.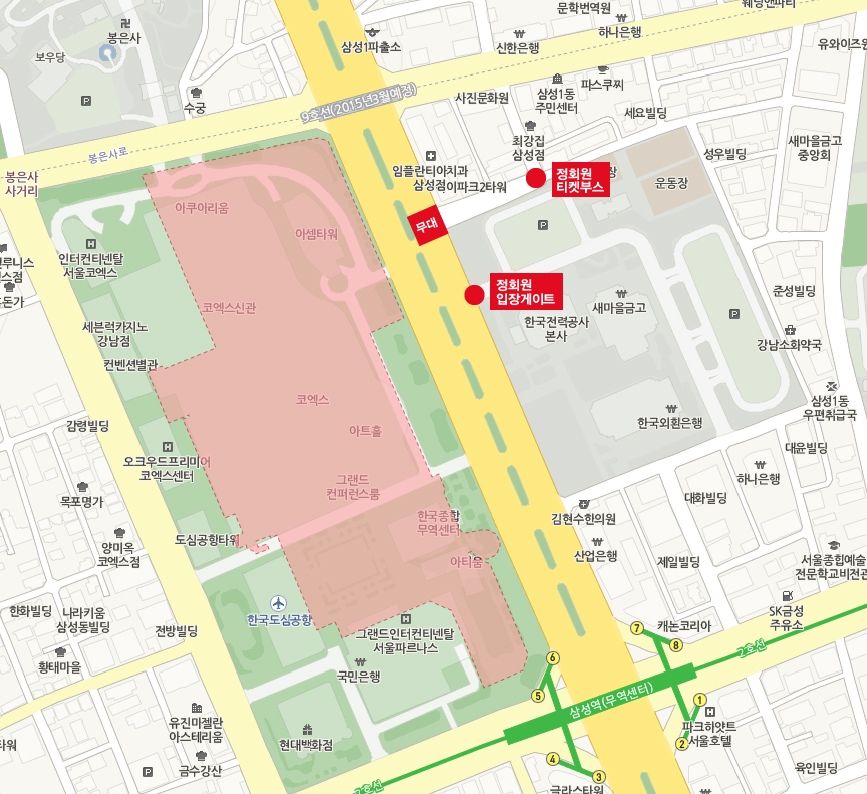 Source: C-JeS Official Homepage
Translated by: rilanna of JYJ3
Shared by: JYJ3