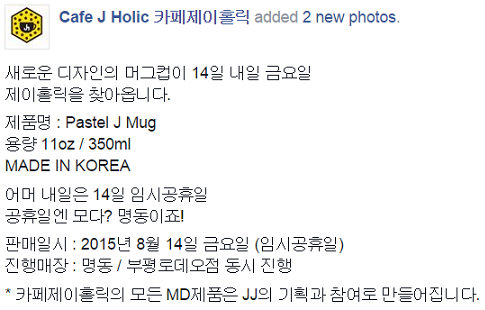 [Translations]
There is a mug with a new design tomorrow the 14th, Friday
Come visit J Holic.
Product name : Pastel J Mug
Capacity : 11oz / 350ml
MADE IN KOREA
Why? Tomorrow is the 14th, a temporary holiday
Gathering where for a temporary holiday? It's in Myeong-dong!
Sale date : 2015 August 14 Friday (temporary holiday)
Stores it'll be proceeding at : Myeong-dong / Bupyeong Rodeo store at the same time
* All of Cafe J Holic's MD products are created with JJ's planning and involvement.
Source: Cafe J Holic 카페제이홀릭
Translations by: rilanna of JYJ3
Shared by: JYJ3