***SPOILER ALERT***
~~ T/N: WARNING!: Please be informed that there are spoilers in this part of the interview. This is a published interview and answers came from Yuchun himself. I am not revealing spoilers on my own but merely translating whatever that was published in the interview. It is readers' choice whether or not to read this part of the interview. ~~
-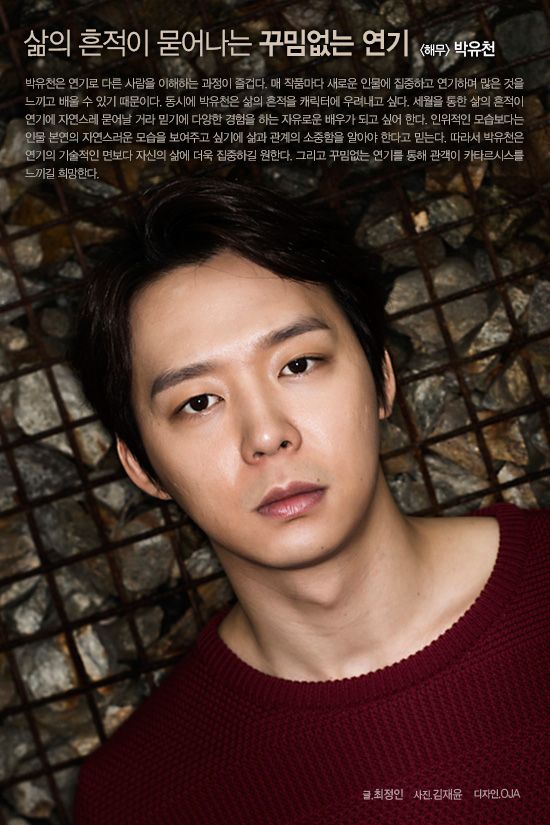 This is your debut film. How do you feel?
I felt nervous during the stage greetings. Likewise when watching Haemoo for the first time. The people around me keep accentuating that it is my first movie and this seems to make me rather more nervous.
Other large-scale Korean movie are premiering at the same time. The burden must be great, right?
If <Kundo> <Roaring Currents> and <The Pirates> are the 'Big Three' then we [T/N: Haemoo] is mega. (Laughs) Because all the movies that are premiering are great films, it will be good if we all do well. I think there is no need to view all Korean movies as separate films.
What do you like about Haemoo's scenario?
Even though it's an ordinary movie, it's also a thriller, sci-fi, horror film. When I first read the scenario of Haemoo, it was good because it's a thriller with the arising of a strange incident. However when filming ultimately ended, it felt like Haemoo is a movie which gives a lot of thoughts. When reading the scenario and imagining as I was reading, the film felt stronger than now. When I was watching it, it feel slightly softer.
The completed film is also full of intensity. (laughs)
Read More →