Official Press Release "JYJ World Tour Concert 2011- Berlin"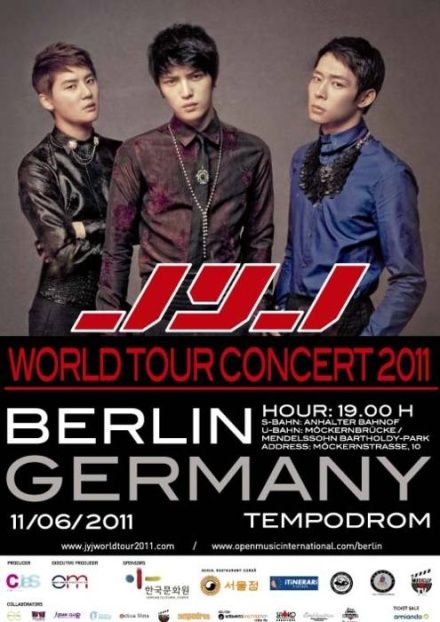 South Korean band JYJ will perform in Berlin
Asian band JYJ will begin their European tour at the end of October. This will take them to the capital of Germany, where they will present their new album "In Heaven". After their first stop in Barcelona on October 29th, JYJ will be taking to the stage at the Berliner hall Tempodrom to their fans delight. The concert will take place on November 6th at 19h.
The band is finally visiting Europe, following the overwhelming success of their previous tours, in which they visited South Korea, Japan, South-East Asia, USA and Canada. JYJ's European tour is the culmination of their increasing popularity in Europe and the demand for them to play live.
Junsu, Jejung and Yuchun, former members of TVXQ, formed JYJ in 2010, and in only one year, they managed to reach the highest positions of the Asian charts/managed to climb to the top of the Asian charts with their English-language global debut album "The Beginning", featuring the worldwide famous rapper Kanye West. Now they are eager to conquer the European market with their new album, which was released on September 23rd this year, with many pre-orders already having sold out.
JYJ expects to enjoy the great success they have had in Asia on our continent and their fans have great reason to celebrate this.
Press contact:
presse@openmusicinternational.com
Official Website:
www.jyjworldtour2011.com
www.openmusicinternational.com/berlin
www.facebook.com/jyjworldtour2011
www.c-jes.com
Buy your tickets Here:
http://www.amiando.com/jyjberlinkonzert.html
Concert Venue:
Location: Tempodrom, Berlin, Germany
Date and Time: November 6, 2011. 7pm