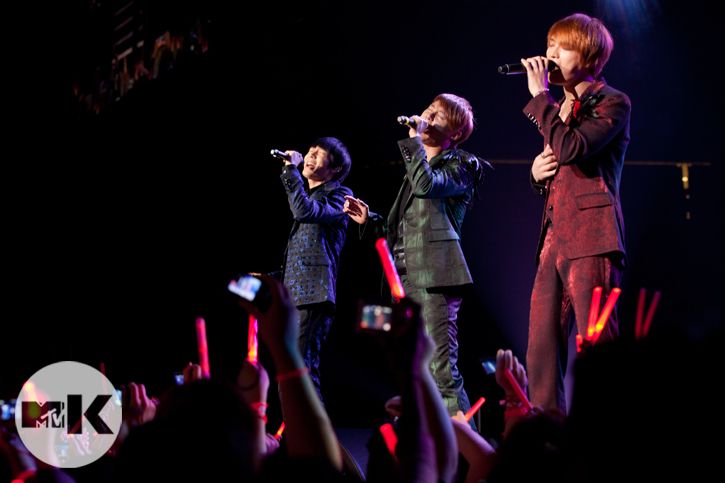 It was a chilly, drizzly Sunday evening when I arrived at Prudential Center for JYJ's Newark concert on the 22nd of May. There weren't nearly as many people as I had expected –- I guess I was picturing something similar to the lines that spanned avenues at last November's JYJ showcase in Manhattan. Then again, it was a Sunday night, and this was Newark, of all places.
That's not to say that the energy level was low though, because fans – ranging from hoards of young teenyboppers to older married women (and the families they dragged along with them) – were bouncing off the walls in excitement.
JYJ fans are perhaps the most organized and dedicated fans I've encountered. I learned that they had a meet-up at the nearby park distributing red t-shirts hours before doors opened. At the venue, girls in red from head to toe were making their rounds, handing out glowsticks, red light sticks, and white light sticks, which I was told (on multiple occasions, mind you) were to be saved for the very last song.
Once doors opened and the crowd rushed inside, the huge arena felt eerily empty at first. I overheard a guy, probably in his late teens, chuckle as he followed his friends down to their seats. "There's like nobody here," he scoffed (only to be hit in the arm by the girls he came with). By the time the show started, the venue was filled to about …60% capacity, 70% maybe.
After the "Be My Girl (Remix)" dance tutorial was shown on the big screen and a few instrumental versions of JYJ songs played, it was finally showtime.
The lights went out, and the chanting/screaming/squealing began.