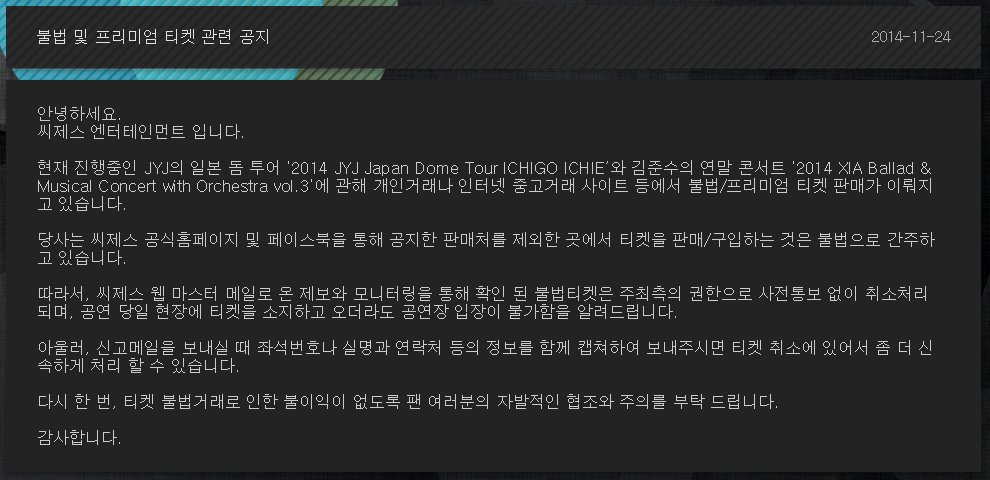 Hello.
This is C-JeS Entertainment.
About JYJ's ongoing Japan Dome Tour '2014 JYJ Japan Dome Tour ICHIGO ICHIE' and Kim Junsu's year-end concert '2014 XIA Ballad & Musical Concert with Orchestra vol.3′, there are illegal/premium ticket being sold on private transaction or Internet secondhand transaction sites, etc.
The company is regarding to the selling/purchasing of tickets illegally from places, excluding the vendors announced through C-JeS official homepage and Facebook.
Thus, through tip-off and monitoring that comes in an email to C-JeS's webmaster, the identified illegal tickets will be processed as cancelled without prior notice under the organizer's authority, and we would like to inform you that you won't be admitted into the venue, even in turning up to process the ticket on the scene the day of the show.
In addition, when you send a notification email, forward us the [screen]capture with information, like, contact details with the seat number or the real name; so we are able to process more quickly the ticket cancellation.
Once again, we would like to request for voluntary cooperation and caution from all of the fans so to avoid penalization due to illegal transactions of tickets.
Thank you.
Source: C-JeS Official Homepage
Translated & Shared by: JYJ3