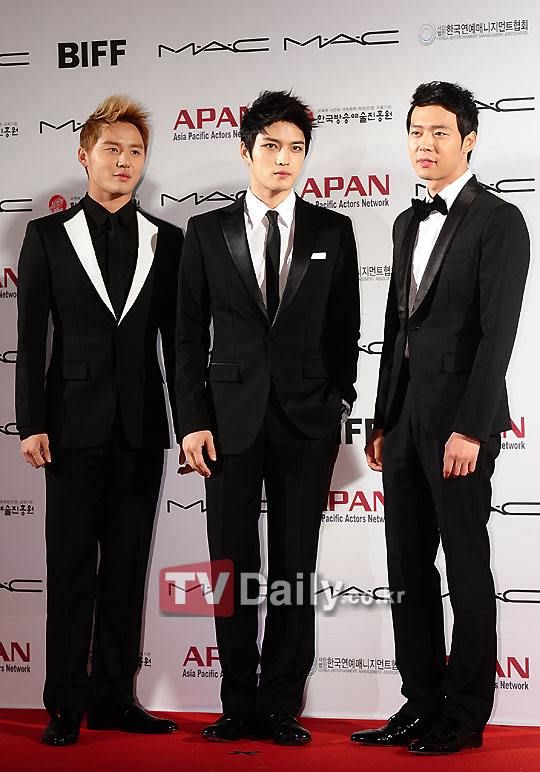 Group JYJ (Kim Jaejoong, Park Yoochun, Kim Junsu) makes a deep connection with the Japanese fans in a monstrous concert.
JYJ held the concert 'JYJ UNFORGETTABLE LIVE CONCERT IN JAPAN 2011′ on the 15th and the 16th, attracting sold-out crowds of more than 80,000 Japanese fans.
The tickets went on sale on the 9th and it was sold-out the moment the sales began. The servers were down for a short while and there were so many fans who desperately wanted to attend the concert, that the number of concert goers far exceeded the numbers the concert organizers' estimated. There weren't enough tickets to go around even with the standing tickets offered.
JYJ were not able to actively to promote in Japan after the devastating earthquakes and tsunamis crippled the land of the rising sun. After a long absence in Japan, the fans were eager to see JYJ back performing and in the morning of the concert, the Hitachi park was packed with the concert goers from end to end. Many morning commute trains headed to Hitachi park from different parts of the nation could not make their regular stops because the train was filled to capacity. The traffic around the park also came to a halt due to the concert goers as well.
One of the concert organizers stated, "We already knew how popular they were because the tickets had been sold-out already, but there were 10,000 standing seats in addition to those tickets and they were all sold-out as well. We were quite frankly astonished at this."