JYJ's Proof-Photo Holding the Book of Poetry by Won Taeyun. To Kim Jaejoong's Comic Expression, All Eyes Focus.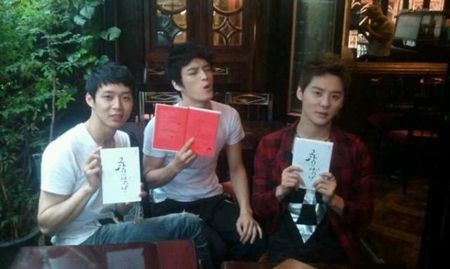 Group JYJ has left an adorable proof-photo and is thus the talk of the town.
Poet Won Taeyun posted on his Me2Day on the morning of the 15th a photo with the words of: "I gave a book to the members of JYJ and they took a photo like this and sent it to me. They all look good."
In the photo, each member of JYJ made a different expression while holding the book Cat and Cactus by Won Taeyun. In particular, although Park Yoochun and Kim Junsu made a quiet pose while holding the book, Kim Jaejoong gave laughs with a comic expression.
The netizens who saw this responded as follows: "Even in photos, Muwon-God is not typical." "JYJ who even reads books with enthusiasm." "The pose is somehow cute." "Looks like the book will sell out."