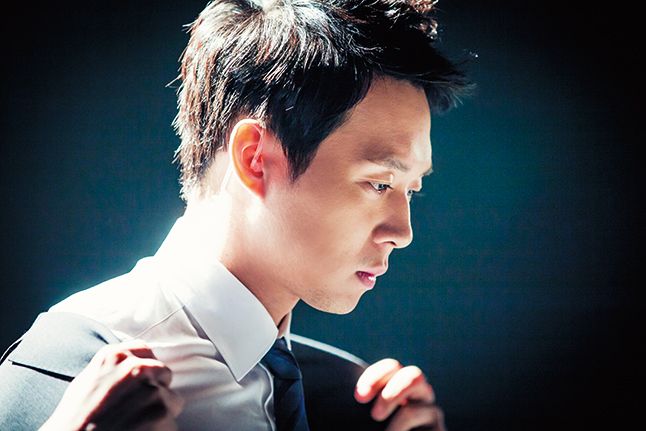 SCENE #1 15th March、The 10 o'clock air in the morning
You can hardly tell the temparature was above 0 degrees when the March coldness sipped into our thick parkers (hoodies). There were about 50 staff and casts crowding in front of a building in Goyang City (T/N: 高陽市 a city north of South Korea). As if to dissolve the terrible cold when filming so early in the morning, the staff were even wearing 2 parkers.
This is the filming location for SBS Wed/Thurs drama < 3 Days >. It was already a hot topic (T/N: original Korean expression used here is HOT POTATO) even from the production stage. The genre is detective action "thriller", rarely seen in Korean drama world. And there the producer of <Tree With Deep Roots> Shin Gyong Soo teamed-up with writer of <Sign> and <Ghosts> Kim Eun Hee, and led to this being labeled as "a drama that you can trust and watch".
And on top of this solid platform we have the main casts Park Yuchun and Son Hyun Joo. It's a story about a President security officer = Han Tae Kyung (Park Yuchun) who goes on to solve the mystery of the missing President = Lee Dong Hui (Son Hyun Joo) and the suspicious death of his father. The charisma of Tae Kyung, who protects the President with his life, can also be exuded from the stiff and rigid lines he speaks. Even when a gun was put in his face, he says happily "Go ahead and shoot. Do you think a security officer is afraid of guns?".
The well-known soft and sad gaze of Park Yuchun turns into "passionate anger" when it meets the character Tae Kyung. I am not used to meeting "Tae Kyung" Park Yuchun but was looking forward to it.
I saw someone I know amongst the staff. Actor Park Yuchun. Close-up his face looked haggard and voice husky. Seems that after he finished filming yesterday morning and tried straightening his back on the bed for a while, his phone rang and he had to gather for filming again. Not just Yuchun. Staff who gathered for filming carried their tiredness from yesterday too, and were preparing indifferently the battle-field for another round of filming.
It was 12th and 13th March, that weekend after episode 3 and 4 were aired. There was a strange air of nervousness among the staff gathering to film episode 6. Special make-up team was again very busy. Another incident was about to hit Tae Kyung. In order to express that emotion well, rounds of rehearsals were done. For just 1 scene, lines were practised many times, and all the staff were holding onto their breath. And then everyone watched "Tae Kyung" crying and screamed. OK was given.
SCENE #2 Director and Actor, the atmosphere surrounding 2 men