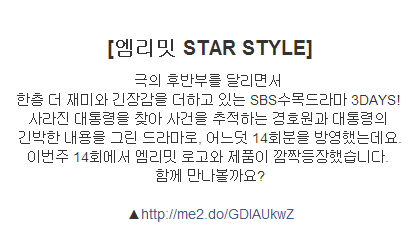 [TRANS]
While running in the latter half of the drama,
adding more fun and suspense, SBS' Wed-Thu drama 3DAYS!
Portraying a bodyguard who pursues an incident to find the vanished President and the acute situation of the President;
Within the drama, it had aired in the minutes of Episode 14 before you're aware of it.
M-Limited logo and products had made its special appearance in this week's Episode 14.
Let's watch it together?