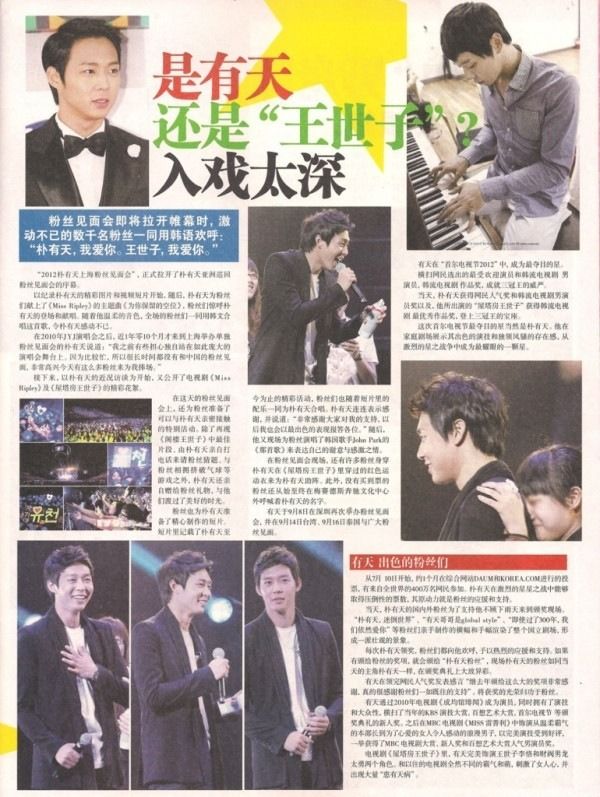 As the fan meeting almost begins, thrilled fans of thousands cheered together in korean " Park Yoo Chun, I love you. Crown Prince, I love you! "
"2012 Park Yoo Chun Shanghai Fan-meeting " officially begins Park Yoo Chun's Asia Fan meetings Tour.
Starting with Yoo Chun's exciting photos and short clip, Park Yoo Chun sang for his fans < Miss Ripley>'s OST < The space I left empty for you > amidst screams of delight at his entrance and live serenade. Following his gentle voice, all the fans sang along with him in korean, which touched him very much.
Since JYJ's concert in 2010, its almost been 1 year 10 months for Park Yoo Chun to come to Shanghai to hold his solo fan meeting.
Yoo Chun said " I was slightly worried to stand by myself on this big concert stage. As I have been very busy, I was unable to meet with my fans here in China in a long while, so I am very happy and glad that there are so many fans who came to support me today. "
With Park Yoo Chun's updates on his recent activities to start things going, the exciting behind-the-scenes footage from < Miss Ripley> and < Rooftop Prince> were shown.