Today, since it was my day off, I decided to go in the city center to buy some stuff and enjoy the nice weather in the afternoon.
While I was on the bus, one of my colleagues suddenly calls me and tells me
– "Oh, girl, they came today!" and I was like "what?! Today? This afternoon? At the restaurant?!" And she answered that only one of them came (and it was Jaejoong). First, Yoochun and Jaejoong (and 10 more staff members) arrived at the restaurant but there were no seats available so my colleague told them that they had to wait for 30 minutes… So Yoochun left, but Jaejoong DID wait for 30 minutes! (And was apparently playing with his phone for the whole time lol).
They apparently ate a lot and Jaejoong didn't leave his phone (none of them haha) while eating -__-
Anyways, so she told me everything and I was like "Wtf why on my day off!!" Then we decided to meet each other in the city center.
We wanted to go drink something and on the way there, we saw three Asian guys, and my colleague and I were staring at them and we both said at the same time "Oh, it's Yoochun!"
First I didn't really know what to do I just said "Annyeonghasaeyo" from far away, but only one of the staff members saw me (lol what a fail). Then I decided to go to him and ask for a sign.
First I asked one of the staff members who was behind Yoochun "Excuse me, can I ask for a sign?" And he was like "What?" (didn"t seem to understand English lol) And he said "Oooh him?" pointing at Yoochun. No duuuh I wasn't asking YOU a sign, of course Yoochun xDD (of course I didn't say that but it was funny lol).
Then Yoochun naturally turned back and took my pen and paper while asking one of the guys what date today was…lol
I was like "Hello, how are you?" But Yoochun didn't really seem that enthusiastic (lol thanks man…)
And one of the other guys asked me "What's your nationality?" I was like hum why is he asking me this and then answered "I'm half Japanese and French" then the guy translated it to Yoochun (I thought Yoochun could speak English though..?) And then said in Korean (and I understood lol) "Wow awesome!" But didn't smile xDD
But then I said, I hope you're enjoying Chamonix, have a nice time here, bye~" smiled and waved at him, and he waved back at me and finally SMILED (hallelujaaaaah lol).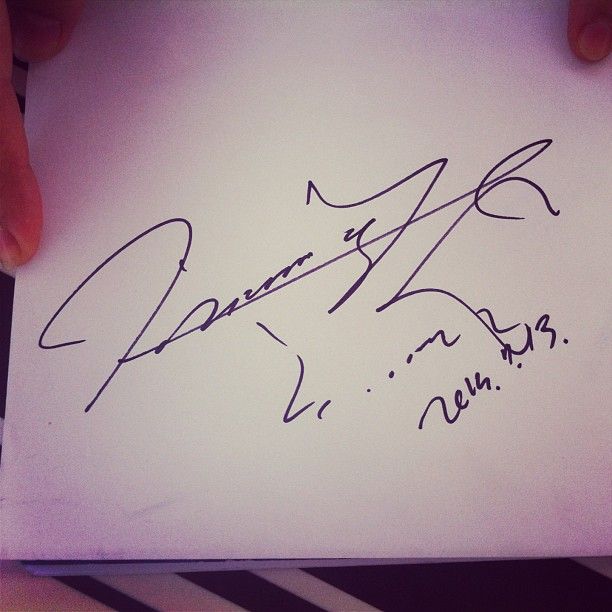 Seemed like he was actually having a walk cause he wasn't wearing any makeup, with sunglasses and his hair was…normal lol not all that you know.