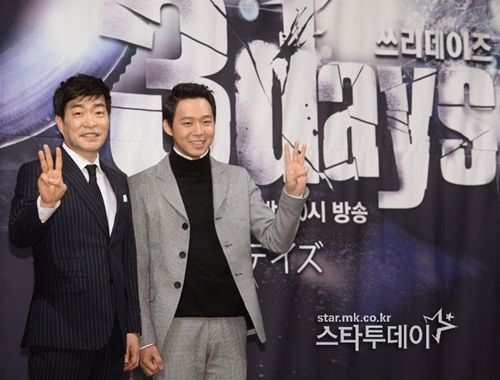 Actor Son Hyun Joo highly praised Park Yoochun.
Son Hyun Joo showed confidence at 'Three Days' press conference that was held at the Imperial Palace Hotel in Gangnam, Seoul on February 26, praising: "Having never met before the drama shooting, I heard a lot about Park Yoochun-ssi's sincerity and diligence."
Son Hyun Joo said, "(Park Yoochun) is a person whose actions speak louder than words beforehand. He arrives early to the scene locations and is even quick to standby, he doesn't show when he's in pain too. He's like a friend for the long run".
Also that day Son Hyun Joo spoke about taking over from SBS drama 'You Who Came From the Stars''s popularity.
Son Hyun Joo said that since there is Kim Soo Hyun in 'You Who Came From the Stars' then there is Park Yoochun for in 'Three Days' who is "good enough to be handed the baton from Kim Soo Hyun" and further showed affection for Park Yoochun.
To this Park Yoochun was moved to warmly respond to the praises, "Son Hyun Joo sunbae has many good traits I can learn from besides acting."
'Three Days' premieres on March 5 at 10 p.m. KST.
Sources: Donga + Star MK
Translated by: rilanna of JYJ3
Shared by: JYJ3